Bookings
For bookings please contact vicky@firebrandmusic.co.uk
T: 07779 096997
Bookings - Australia and New Zealand
For Australian and New Zealand bookings please contact Cathy Kirkpatrick: cathy@nomadicfish.net
T: +61 49 899 1967 (AUS)
All Other Enquiries
For all other enquiries please contact
info@phhmmusic.co.uk or info@philliphenryandhannahmartin.co.uk
Technical Requirements
For venues with in-house P.A., our tech spec is 2 vocal mics [sm58 or equivalent, or Neumann KMS], 1 instrument mic, and 4 D.I.inputs. We provide Orchid preamp D.I. Boxes for two of these so require only 2 D.I. Boxes on stage.
Press / Promoter Downloads


A time of decision; a moment of change; turning point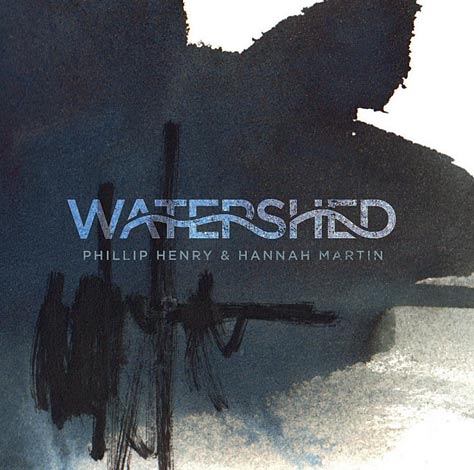 RELEASED: September 25, 2015
~ 1st studio CD since BBC "Best Duo" win ~
Watershed, the keenly anticipated third studio album from Phillip Henry & Hannah Martin emerges as their most emotionally charged, personal and pertinent work to date.
A collection of 12 atmospheric original songs and tunes, recorded live with the Watershed band in just ten days in the borderland of the Blackdown Hills, it sees the 2014 BBC Radio 2 Awards "Best Duo" winners taking a journey 'closer to home' in an inspired mix of folk fusion.
Moving away from the historical figures and events that peopled their highly acclaimed previous album Mynd, they explore the idea of a modern folk tale - drawing on personal experience to create edgier, grittier material whilst retaining an 'everyman' empathy.
Kith and kin inspire many of the tracks, from foundlings to cotton mill workers, all bonded by a theme of split-second decisions and forked paths that shape sliding door destinies.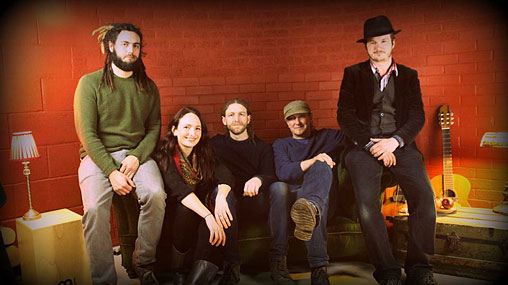 The alchemy of Martin's ever evocative songwriting, rich vocals and fiddle and banjo playing and the much extolled skills of Henry on dobro, harmonica, lap steel and more fuse into a wholly distinctive world sound bridging blues, folk, country and Americana - songs of lament, tunes of hope and totally unpredictable twist and turn music, enhanced by the deft double bass of Matt Downer (Jamie Smith's Mabon) and the textured percussion of James Taylor.
Produced by Mark Tucker at The Green Room, it bears all the trademarks of the Devon-based duo's beguiling style - hypnotic, flowing, layered music that draws the listener into another world.
The strong title track with its finely interwoven instrumentation opens the album; the lyrics full of visual imagery. It encapsulates living in the moment, and the multiple choices we have about which life path to take. Painting a picture of a rainy mountain climb, the tempo mirrors footfalls through their favourite Cumbrian fells building in intensity to a brilliant crescendo that sets the standard for the rest of the album.
Henry's resonating guitar underpins Martin's clever lyrics in the uptempo Stones - a no holds barred retort to a certain UKIP representative who blamed 2014's storms and floods as divine retribution on the Government's decision to legalise gay marriage. It features fellow Devon-based musician Rex Preston on mandolin.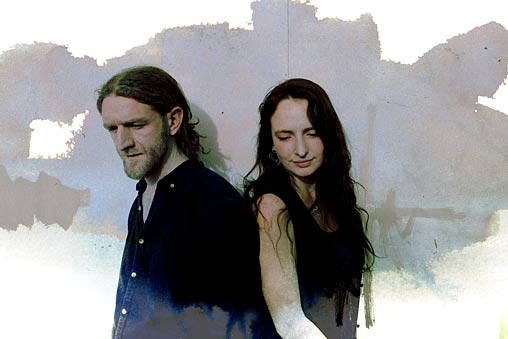 Lancashire-born Henry takes lead vocal as water-droplet pizzicato opens Yarrow Mill a delightful, innocent song about his paternal grandfather Alban Henry who met his wife over the looms of Chorley's Yarrow Mill. Unhurried and delicate it captures the simplicity of a bygone age with cascading violin and subtle percussion and bass.
Conkers continues the backward glances - childhood memories of an autumnal game seen through an adult's eyes while Henry's outstanding guitar and Martin's curling violin entwine in the dark month tune December before the calendar turns over to Martin's acapella January - marking new year endings and beginnings.
Imagery and sentiments are strong in the poignant, slow-paced song of loss - Letter (unsent) - stately strings capturing disbelief while the heart-breaking narrative of Foundling comes from the duo's own family history mingling a sense of abandon and parting but also hope; Henry's doleful dobro matching the mood.
Shimmering slide guitar work in the Irish traditional Lament merges into London, a more upbeat perspective on the foundling tale. Imagining the child when grown it builds to a bewitching wall of sound transporting you to somewhere else entirely and ending with wonderfully expressive fiddle from Martin.
Tonight and Taxis are songs taken straight from their own lifestyle - the mellowness of Tonight inspired by carefree, earth-warm, moonshine nights at festivals while Taxis epitomises the 'on the road' life of a working musician, from motorway to stage to home.
A vivid journey threaded through times, places and generations, Watershed is a mesmerising release to further endorse the reputation of a duo who have gained a rapid and sure foothold in the higher echelons of the roots genre.
Released on the Dragonfly Roots label on September 25, it will be distributed by Proper Music.
The album will be showcased on an autumn UK tour starting September 24 and there will be five exclusive gigs around the release date featuring the full Watershed band including an album launch concert at King's Place, London on Saturday, October 2. The West Country album launch gig in Devon on October 3 is already sold out.
The duo played a host of festivals over the summer including Broadstairs Folk Week, Beautiful Days, FolkEast, Towersey and Southdowns Folk Festival (Bognor Regis). They will be touring Germany and the Netherlands in November. A full list of gigs can be found here.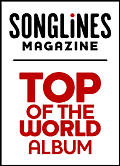 Songlines



Daily Telegraph



Financial Times



The Guardian



R2



The Scotsman
~ MYND ~
One of the outstanding roots releases of 2013
"On hearing the first notes of the first track I knew that I was listening to a modern classic. One of the most exciting albums I've heard in years"
- Mike Harding
"Subtle, atmospheric, bravely original"
- Robin Denselow, The Guardian ****



"This duo has a combination of virtuosity, intensity and charisma that merits a slot on much bigger stages"
- John L. Walters, The Guardian



"An imaginative and innovative album - songs that linger in the memory held together by the fine musicianship of Henry and Martin. Strong and original - an unusual treat"
- Martin Chilton, Daily Telegraph ****



"A thoughtful and moving album with great arrangements"
- Mark Radcliffe, BBC Radio 2



"Eloquent performers - a musical success story"
- Fiona Talkington, BBC Radio 3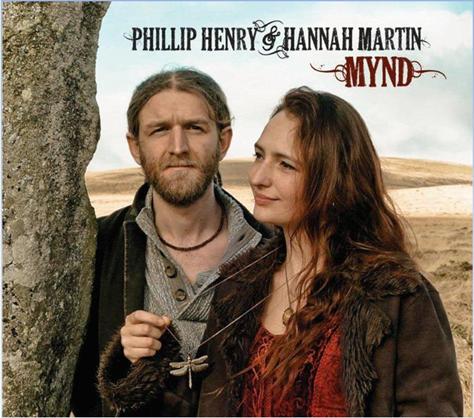 "Mynd" (Old English):
memory/remembrance/act of commemoration/thought/mind/intellect
2013 SPIRAL AWARDS: BEST DUO
2012 south west music awards: best folk act
As played on BBC Radio 2 Janice Long Show, BBC Radio 2 Mark Radcliffe Folk Show, BBC Radio 2 Bob Harris Sunday, BBC Radio 3 Late Junction and World on 3, The Mike Harding Folk Show, BBC Radios: Scotland, Wales, Ulster, Cambridge, Gloucestershire, Devon, Cornwall, Shropshire, Stoke, Hereford & Worcester, West Midlands
~ ~ ~ ~ ~ ~ ~ ~ ~ ~ ~ ~ ~ ~ ~ ~ ~ ~
When it comes to a distinctive sound, exceptional duo Phillip Henry and Hannah Martin have shown they are in a league of their own.
One of the most inventive and captivating rising acts on the acoustic roots scene they unveiled their evocative second studio album in September to marked acclaim from all quarters. From the West Country hotspot of musical talent, the harmonious Devon duo followed up their 2012 debut Singing the Bones with the moving and mystical Mynd (Old English for memory and remembrance) - an exquisite 12-track album infused with Phil's trademark instrumental virtuosity, Hannah's clear vocals and the pair's highly original thought-provoking songs often trawled from some of the less obvious moments in history.
Widely regarded as one of the best slide guitarists in the UK, Lancashire-born multi instrumentalist Phillip Henry has been described as "one of the most extraordinary musicians around". Henry, who studied in Calcutta with India's premier slide guitarist Debashish Bhattacharya, is also a virtuoso on the harmonica and brilliant on beatbox harmonica whilst Brixham-born singer-songwriter Hannah, is a skilled fiddler, viola and banjo player with a real lightness of touch, a distinctive voice and a gift for tapping traditional music veins to create contemporary songs.
Mynd inhabits an English landscape of Neolithic barrows and haunted East Anglian fens, while other narrative songs transport you to the heat of Syria, Egypt and the American south and across to the Swedish chill and Arctic ice.
Sometimes mournful, often haunting and always compelling each Henry and Martin song is a fresh journey of discovery - twisting, curling melodies and eclectic rhythms wrapping themselves around perceptive lyrics. Produced by Mark Tucker, Mynd draws inspiration from unexpected places - championing remarkable women in several tracks - c18th German astronomer William Herschel's sister Caroline, (the sublime Song for Caroline Herschel) ; Anna Charlier, the fiancée of lost Arctic explorer Nils Strindberg who, though buried in Torquay, wanted her heart to be placed in a box in his Stockholm grave (Silver Box) , esteemed Victorian gardener Ellen Willmott whose lasting legacy grew from seeds surreptitiously sprinkled in other people's gardens (Miss Willmott's Ghost) and the courageous Sunday Times journalist Marie Colvin killed in Syria's Siege of Homs in 2012 whose story is movingly recounted in the haunting Hannah Martin-penned song Last Broadcast, with lyrics drawn from the correspondent's final article.
Winners of Best Folk Act in the 2012 South West Music Awards and Best Duo in the 2013 Spiral Awards, this class act played the biggest venue of their career last year, when they supported Show of Hands at the Royal Albert Hall while this summer they played Glastonbury, Cambridge and Broadstairs festivals. They have the knack of transporting listeners into a reverie with their almost tactile music, all delivered with a gossamer light touch, none more so than the languid Thirty Miles with Phil on vocal, inspired by Toni Morrison's book Beloved; Phil's drifting dobro interlude Elegy, first played at the Albert Hall and the album closer - a beautifully understated take on James Taylor's Close Your Eyes.
Henry & Martin are now showcasing this stand-out album on a UK tour through the end of 2013 and spring 2014 (dates to right).
See Phil and Hannah perform The Boy Who Wouldn't Hoe Corn and Mynd album closer Close Your Eyes